What is your organization's main reason for participating in the Festival?
The Festival attracts thousands of children and their families, along with other members of the public who come out to celebrate science. Since USASEF's inception in 2010, NIH has had widespread involvement in the festival including a Pavilion that hosts over 20 different hands-on activities, dedicated NIH time at the Career Pavilion and speakers for the X-STEM program. Every aspect of the NIH mission depends on attracting the next generation of STEM professionals and the USASEF goes a long way in reaching out to future generations to help ensure the Nation's capability and well-being in preventing disease.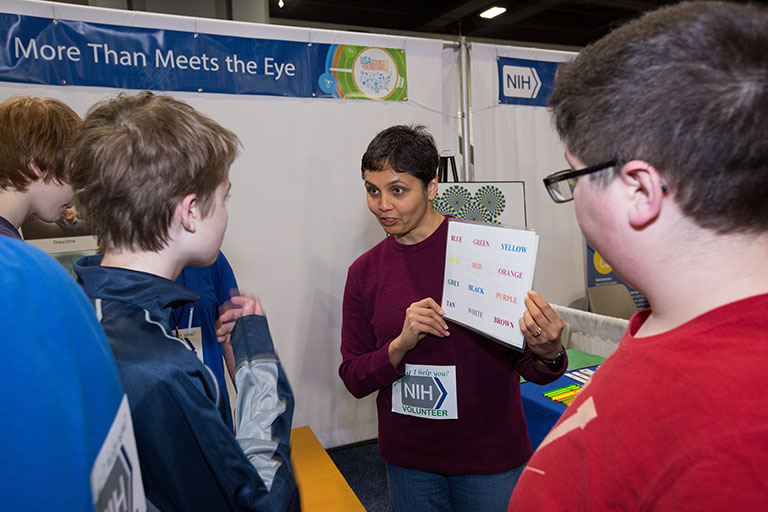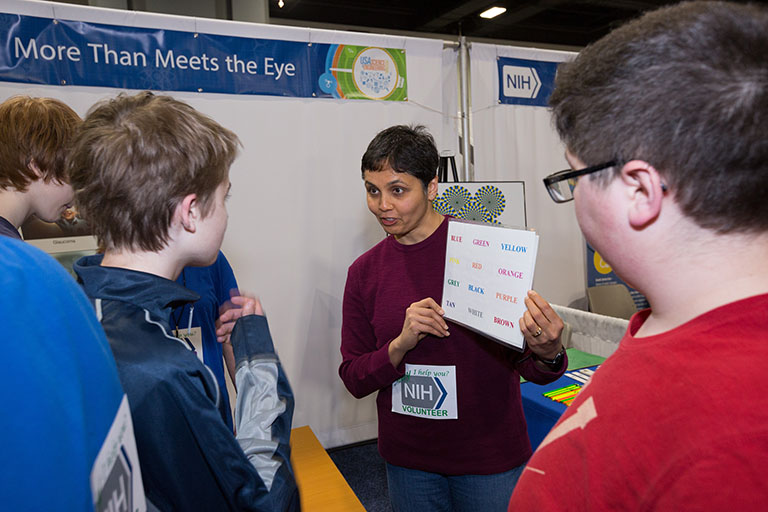 How does your organization determine a successful presence at the Festival?
The NIH Pavilion is filled every year with a diverse crowd of young and old. Our wide-range of activities brings smiles to the faces of all who delight in trying them. Watching a parent on their knee helping a young child as they complete an activity or ask a question is a wonderful opportunity to observe the "love of learning" and enjoyment of science live and in-person. Knowing that thousands of impressions just like this are being made every minute, and seeing them first-hand, defines our success.
In 2016, volunteers walked around the NIH Pavilion with official counters, tracking crowds in hour time blocks. We gathered estimates of over 2,500-3,500 people entering the Pavilion every hour during the peak times of the festival, but it was impossible to track the level of interaction or length of stay.  In addition, supplies for various activities, are often used to track activity participation, but with over 20+ different activities, and different levels of personal interactions occurring with each activity, these efforts are only a guide in estimating the variety and intensity of impressions from our efforts.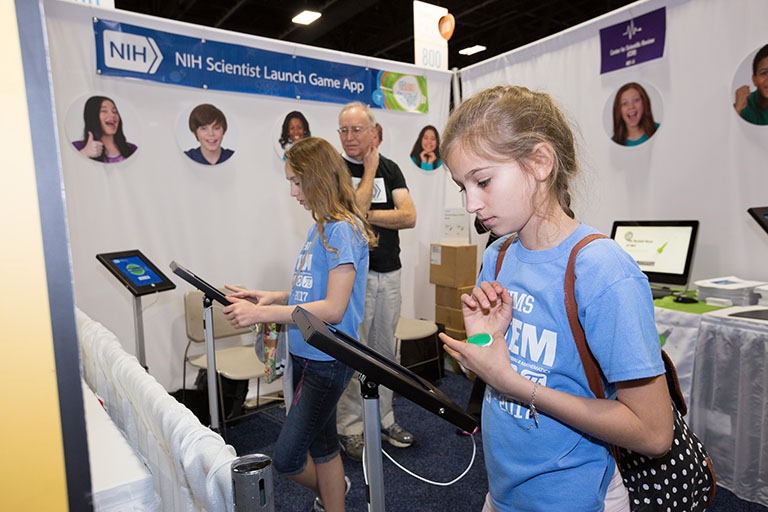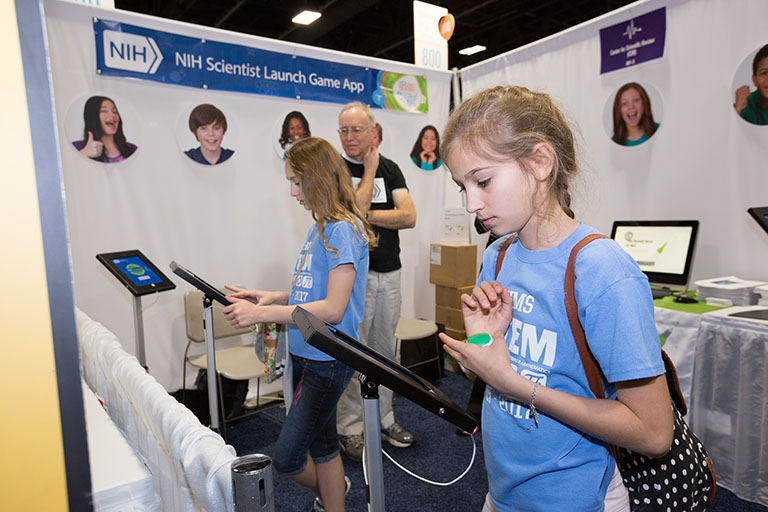 How is your presence at the Festival perceived by your employees and management?
The NIH has hundreds of staff who volunteer to help out at the NIH Pavilion for each festival. The activities are packed with non-stop crowds and volunteers can be on their feet for hours at a time.  The effort is exhausting, draining and also inspiring. Our volunteers come back every year we participate because they love seeing first-hand, that special moment when a child's interest sparks right in front of them—as they hear, "That was so cool!"
What can we look forward to from your organization at the upcoming 5th Festival? 
Within the festival, the NIH Pavilion covered 5,600-square feet of space, anchoring the Health and Medicine Pavilion. Nineteen institutes, centers, and offices organized the 26 hands-on, vibrant, activities that enticed and enthralled visitors.  A father who was taking his five-year-old son around the NIH Pavilion was heard saying, "We don't need prizes or giveaways. We are here to learn, learn, learn!"  Additionally, more than 400 NIH wide volunteers worked tirelessly to make the NIH Pavilion a rocking place to be. In all, NIH rocked an impressive 2,000+ visitors per hour.
Some Pavilion activities will include:
Treating Cancer with Light Therapy
Genetic Trait Tree
The 3D Print Exchange
Brains Up Close
Infrared Imaging: Seeing the Invisible
Is there anything else you would like to share with us or potential new sponsors of the USA Science & Engineering Festival?
Some of the personal sentiments of those who dedicate their lives to science at the NIH and also volunteer many hours of their own time to help out at the festival are reflected in the following sentiments expressed by a cancer researcher.  "It is not only important, it is arguably our duty as a world-leading health organization to not only set standards and execute on operational requirements, but to generate awareness, educate the public, and drive the next generation of scientists and leaders. Supporting grassroots and formal educational avenues will generate critical long-term returns."