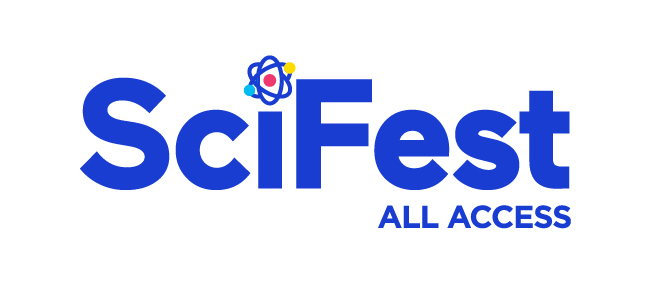 DATES EXTENDED THROUGH OCTOBER 31
Join us for SciFest All Access – a Virtual STEM Expo – brought to you by the USA Science & Engineering Festival!
For the past decade, the USA Science & Engineering Festival has been proud to offer the largest and only national science festival with thousands of hands-on activities, conversations with STEM mentors, and exciting stage shows.  While we await the opportunity to bring back our in-person Expo, we hope you will join us this fall for a FREE Virtual Festival – SciFest All Access.
Virtually experience exhibit booths featuring hands-on and interactive STEM content, get an all-access pass to performances on the STEM Stage, hunt for clues and earn badges and prizes in the Scavenger Hunt, gear up in the STEM Store, find your next opportunity in the College Career Center.
CLICK HERE to learn more and view SciFest All Access exhibitors and performers.
Familiarize yourself with the SciFest platform by viewing the Welcome Video. You can also watch this video from the SciFest Lobby after you log in.
CLICK HERE to learn more about the College Career Center taking place within the SciFest platform.
Questions about SciFest?  View a list of FAQs HERE.
---

EDUCATORS
Please consider utilizing this virtual STEM event as educational content for your students this fall.  Here is what you can expect when signing up your students:
Each student attendee will need to create their own personal screen name and login credentials (a unique email address and password) to access the SciFest virtual platform. If you are registering a group of students from your school, please have each individual attendee access the form below.
Don't forget to instruct them to select the specific day(s) you would like them to have access to SciFest.  The event will be available now through October 31.  You will be able to add-on additional dates during the registration process.
Each attendee, including students, will need to enter a unique email address when creating a login. If your students are unable to use their school email for this purpose, we recommend requesting a parent/guardian email on your virtual field trip permission slips that can be used to enter SciFest. Teachers will not be able to register multiple students with their own email address.
For School Group Registrations, please use the form below.  Each person in your group will need to complete the form separately.