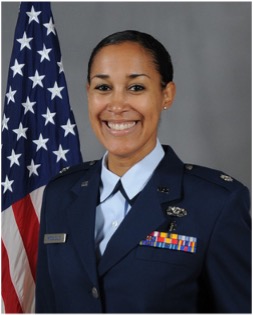 Deputy Base Civil Engineer
Goldwater Air National Guard Base
Lieutenant Col Cassandra J. McCloud is the Deputy Base Civil Engineer for the 161st Civil Engineer Squadron (CES), Goldwater Air National Guard Base, Phoenix, Arizona.  She supports the commander in leading 65 military, federal and state full-time personnel.  She oversees maintenance, repair and construction for the base, which includes 277 thousand square feet of physical plant and 18 facilities worth 150 million dollars. She manages facility planning, programming, design, operations, and environmental protection on 60 acres of land. Additionally, she supports organizing, training, and equipping Air National Guard military personnel in Prime Base Engineer Emergency Force (BEEF) and emergency management for the base.
Lt Col McCloud entered active duty in April 2006 to attend Commissioned Officer Training school and then time on station at Luke AFB. She attended Bioenvironmental Engineering technical school at the School of Aerospace Medicine, Brooks City-Base, Texas, graduating in May 2007.  In August 2009, Lt Col McCloud transitioned to the Air National Guard to become the Bioenvironmental Engineering OIC at Goldwater ANGB, where she led a four-person team and was the wing liaison for all occupational and environmental health programs. During her tenure, she had performed numerous first time chemical and physical hazard risk assessments, lead occupational illness investigations, and positively engaged off-base civilian agencies on behalf of the Wing.  Lt Col McCloud has been an instrumental member of 161st ARW Wing Inspection Team and has performed staff assistance visits and exercise evaluation support at several other installations. 
Lt Col McCloud has an interdisciplinary career background which includes civilian experience in healthcare information systems, industrial chemical sales/service, and environmental consulting. From 2017 to 2020 she served as the 161st Air Refueling Wing's Environmental Manager, overseeing the development and execution of all installation environmental activities, serving as a liaison with Federal, State, and local environmental agencies, and ensuring regulatory compliance for programs to include hazardous waste management, air quality, pollution prevention, and the Environmental Restoration Program. Lt Col McCloud is a licensed Professional Engineer in Arizona, and a Certified Hazardous Material Manager. Prior to her current military position, Lt Col McCloud was the Bioenvironmental Engineer with the 161st Medical Group at Goldwater ANGB, Arizona.