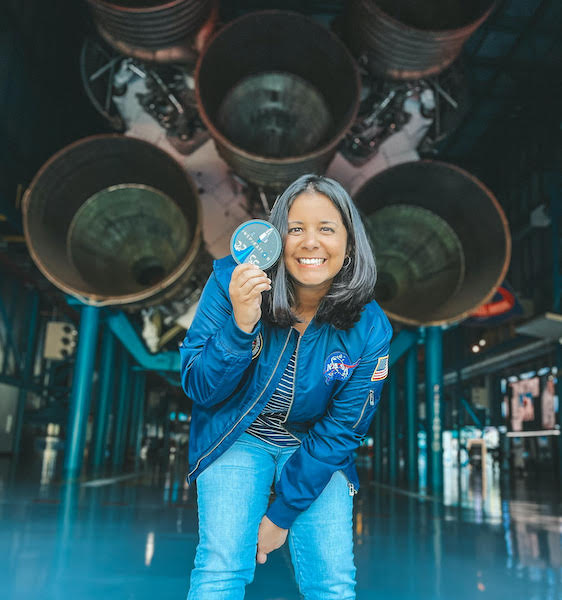 Fun Fact – she is one of five people selected to train as a commercial astronaut for a future spaceflight!
Joan Melendez Misner (@yourfemaleengineer), a native of Orlando, FL., is a Mission Integration Systems Engineer at NASA for the Launch Services Program working on management of space and aeronautical flight systems for all non-crewed and scientific missions. Her missions include the Double Asteroid Redirection Test (DART), Europa Clipper, GOES-U and Dragonfly.
Joan received a dual bachelor's degree in Chemical Engineering and Chemistry from the University of Maryland, and a master's degree in Systems Engineering from Naval Postgraduate School. Prior to working for NASA, Joan worked for Blue Origin on the New Glenn rocket, and Naval Air Systems Command on jet engines, fuel systems, and biofuels research/qualification. 
In her spare time, Joan volunteers throughout the community and is fully involved with STEM Outreach Programs, including judging robotics competitions, mentoring middle/high school aged students, and participating in the "Women in Math" events. She was chosen as a "Wonder Woman" for the STEM-ing event due to her endeavor in the community. She was also chosen to be a part of the DoD's "30 under 30" promotional video which aimed at raising awareness about STEM career opportunities among college students studying in STEM.
As a first-generation college graduate, I strive to increase representation in underrepresented communities, as well as encourage them to pursue STEM careers through social media and non-profits.
Additionally, she creates STEM content on both Instagram and TikTok under the name "YourFemaleEngineer".