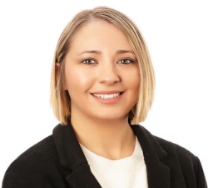 Sales Account Manager
Airbus U.S. Space & Defense, Inc.
Lauren Reed is a Sales Account Manager with Airbus U.S. Space & Defense. Airbus provides multi-domain solutions for Mission Critical communications to public safety, enterprise, smart airports, military, and government agencies. Airbus U.S. Space & Defense's Communications & Intelligence delivers industry-leading satellite and geospatial intelligence capabilities, NSA certified encryption devices, secure land communications flexibility, resiliency, and security in the harshest environments for government, military, and civilian agencies.
Over the last decade Lauren has experience in sales leadership roles from business startups to national accounts. She has consistently achieved top ranked performance and been promoted to leadership roles. As she continues to grow her career she has a desire for success, embracing organizational goals as personal challenges.
Lauren's educational background includes a Bachelor of Science in Emergency Administration & Planning "Emergency Management" at The University of North Texas and Associates in Fire Protection Technology & Paramedicine at Dallas College. She also completed Emergency Medical Technician training. She is passionate about public safety and learning about new technology.
Her work at Airbus U.S. Space & Defense has enabled her to accelerate her career by working with industry leaders and developing partnerships with Common Objects & Blueforce Development Corp.