Get ready for unforgettable excitement as this powerhouse in STEM returns once more as a major participant of the Festival. The U.S. Department of Defense (DoD) — the nation's largest federal employer of scientists and engineers, and one of the Festival's earliest supporters – will again regale audiences at Festival Expo 2018 in April with high-tech DoD experts and their innovations, all to inspire students and others in science, technology, engineering and mathematics, and the rewarding careers in these fields.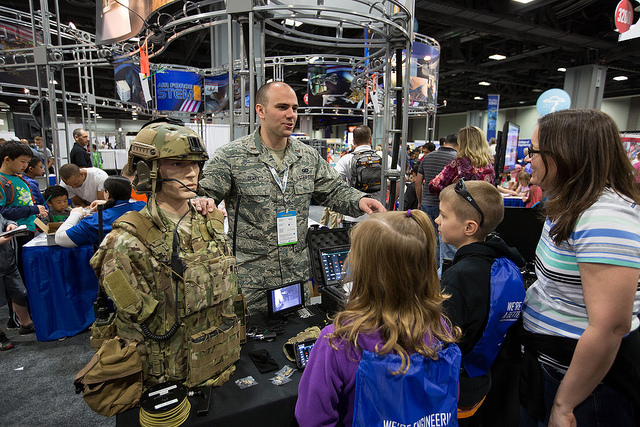 "The DoD would like to impress upon students that careers in STEM can be exciting, life-changing, and rewarding," says Dr. Jagadeesh Pamulapati, Director, Laboratories Office within the Office of the Under Secretary of Defense for Research and Engineering. "We're excited to participate in our fourth USA Science & Engineering Festival and to showcase the many talented STEM professionals within the DoD and their accomplishments."
He adds: "The Festival provides us an opportunity to inspire and engage youths and a broader community regarding the world of science and technology, and what the DoD has to offer.  It is an opportunity for the DoD to reach a large audience, including students, parents, educators, industry, academia, and job-seekers!"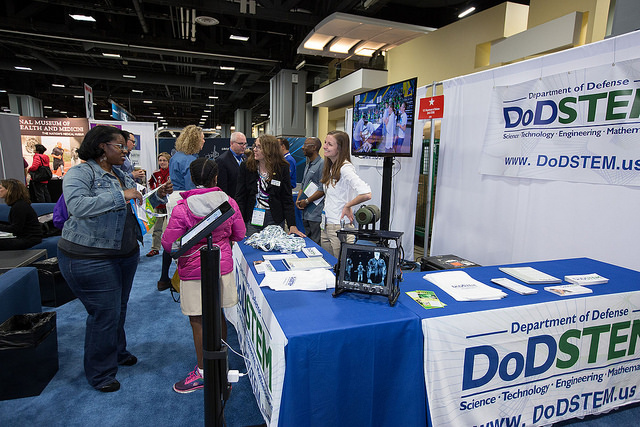 Expo goers this year won't be disappointed as they'll have the chance to interact with STEM professionals and mentors within the DoD through a variety of stimulating hands-on activities, including:
"Ray Optics Laser System" demonstration. This demo will give students insight into the function and application of optical systems – starting with the human eye, and progressing to how a camera works, the optical systems of two types of telescopes, and concepts of spherical aberration, refraction and reflection.
Drone Excitement. Don't miss DOD's drone cages for flight demonstrations!
"Lightning Talks". These short but powerful speaking and videos sessions by DOD professionals will help capture the experiences of DoD scientists and engineers in meaningful ways.
"Our presentations will help inspire and encourage children that each of them has the potential and capabilities to become part of a life-impacting career in STEM, such as in computer sciences and information technology, mathematics, social sciences, health, and more, says Dr. Pamulapati.
And for added STEM enrichment, students should not forget that the DoD is involved year-round in stimulating outreach programs and mentorships to further motivate them and to ensure that the STEM talent of tomorrow is cultivated and nurtured. "The DoD has participated in STEM activities for over 50 years and it is critical that we continue to attract, inspire, and develop exceptional STEM talent across the education continuum," he says. "Our goal is to develop our current and future DoD workforce to meet the current and future technical challenges faced by our nation. "
To learn more about DoD´s key STEM outreach programs, click here. And to find out about DoD´s scholarship programs in STEM, click here.