Place the "Official Partner of the USA Science & Engineering Festival" logo below in a prominent spot on your website and link it to www.usasciencefestival.org. Just right click on the logo below and select "save as" to download it to your computer.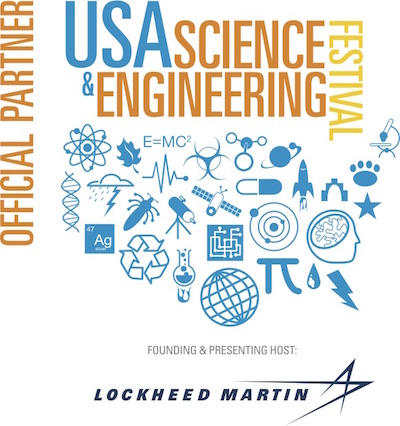 Here is some text you can use alongside the logo:
[your organization name] is proud to be an Official Partner of the 5th USA Science & Engineering Festival, to be held April 7-8, 2018, in Washington, D.C.
What is the universe made of? Why did dinosaurs go extinct? What do magic tricks and hip-hop have to with math? What will be the next medical breakthrough? What does baseball have to do with physics? Find out at the 4th USA Science & Engineering Festival Expo where more than 350,000 K-12 students and parents, over 5,000 teachers and over 3,000 STEM professionals will experience the largest celebration of STEM!
Participants include more than 1,000 of the world's leading professional scientific and engineering societies, universities, government agencies, high-tech corporations and STEM outreach and community organizations.
The two-day Expo is perfect for teens, children and their families, and anyone with a curious mind who is looking for a weekend of fun and discovery.
On  Thursday, April 5, 2018, middle and high school students will have a chance to view presentations from the most inspiring STEM professionals at the X-STEM Extreme Symposium! Registration is required.
And Sneak Peek Friday, open to schools, homeschoolers and military families, returns on Friday, April 6, 2018!