NCR Foundation Tells Why it Served as a Sponsor of X-STEM DC! 
X-STEM DC, an Extreme STEM Symposium presented by the NCR Foundation and the U.S. Department of Defense, featured 20 leading hands-on speakers and attracted more than 3,000 enthusiastic middle and high school students from the DC region and beyond for high-energy inspiration in STEM careers. In an interview for our newsletter, Yvonne N. Whitaker, NCR Foundation Lead, talks about NCR's participation as a sponsor of X-STEM DC, including why such events are important and why NCR supports the Festival in inspiring the next generation of leaders in STEM.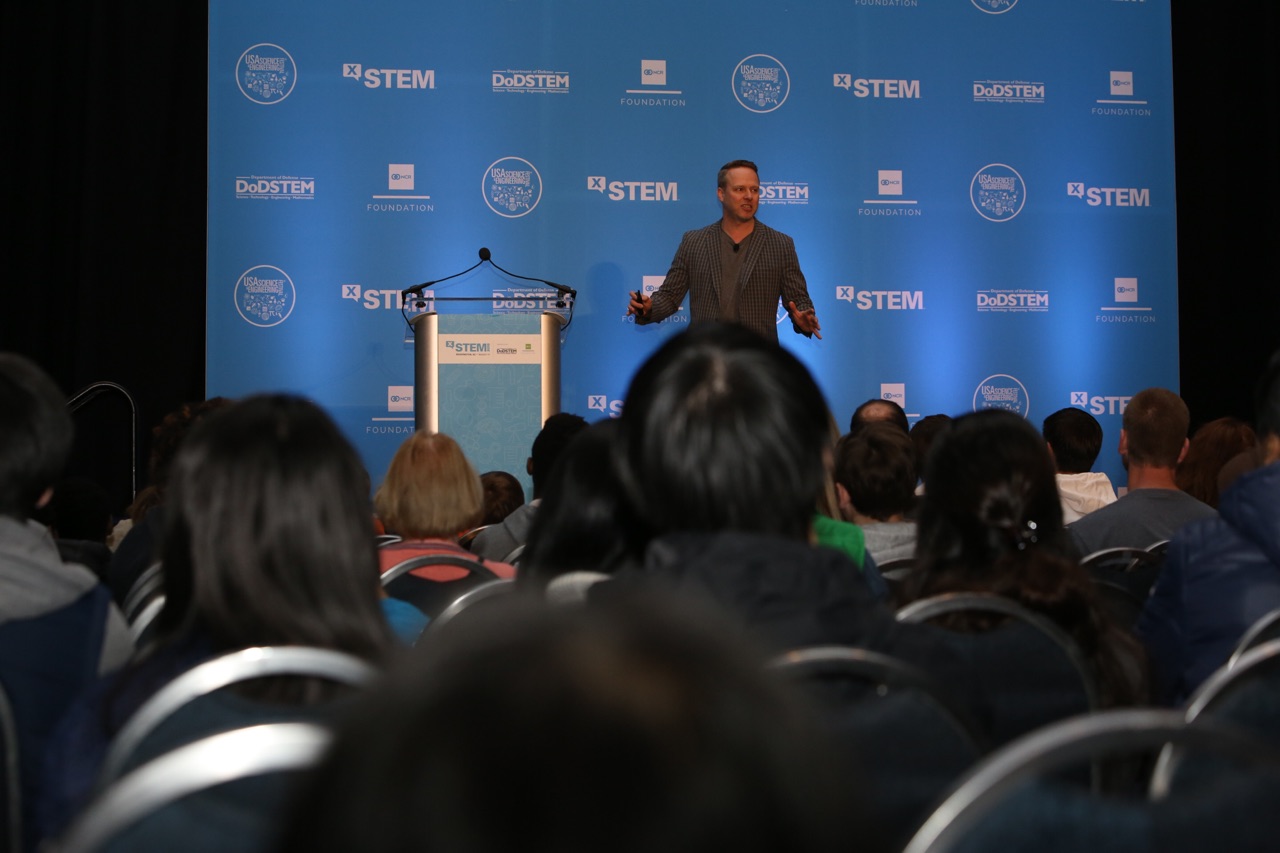 X-STEM Speaker Tim Vanderham from NCR 
Yvonne, can you share some key highlights or poignant moments of NCR's participation in X-STEM DC, including the presentation by NCR symposium speaker, Tim Vanderham, the NCR Chief Technology Officer, and reactions from students?
Tim has a strong passion for sharing his experiences with others, especially students and new employees.  His story of how to innovate in unlikely places ranges from growing up on a dairy farm in South Dakota, to his 18-year career at IBM before joining NCR. The questions from the students after his presentation made it clear they connected with him.  I especially loved seeing the girls' faces when he shared that his two best career mentors were women.
NCR and the NCR Foundation take seriously its emphasis on Corporate Social Responsibility, specifically in partnering with nonprofits nationally and globally to support projects that ultimately provide opportunity. How does your sponsorship of the Festival's X-STEM DC Symposium, and your support of the Festival's goals, coincide with NCR's mission?
NCR Foundation believes the potential is distributed equally, but the opportunity is not. Our mission is to provide those opportunities to those who need it most. Advancing technology by making strategic investments in STEAM education is a key priority.  We help provide technology-related experiences for students through our support of the Festival's X-STEM, as well as the Atlanta Science Festival, and the United States FIRST Robotics.
Why are outreach events like X-STEM DC important, including providing role models in STEM and STEAM (Science, Technology, Engineering, Arts, and Mathematics) for young students?
The impact of STEM education is clear and evident. According to the Brookings Institution, more than 20 percent of all U.S. jobs in the year 2011 required a high level of knowledge in any one STEM field. By extending STEAM programs to all communities, school districts can not only better prepare students to succeed, but add diversity to an industry long stereotyped as a haven for white males.
Businesses need the next generation of STEAM-educated and prepared students to extend their success. Currently, there is a projected mismatch between available jobs in tech-related fields and qualified workers to fill them – a problem that early education and enthusiasm can offset. Additionally, by diversifying their workforce, businesses can introduce new perspectives and approaches to solving problems and appeal to a wider range of customers and partners.
Thank you, Yvonne and NCR Foundation for your continued support!