A powerful arm of the nation's Department of Defense, the United States Air Force proudly carries out its mission of protecting America by dominating in air, space, and cyberspace defense. Get set as this major sponsor of Festival 2018 takes you up close in its important work, including how it uses the latest innovations in science, technology, engineering and mathematics (STEM) to keep us safe.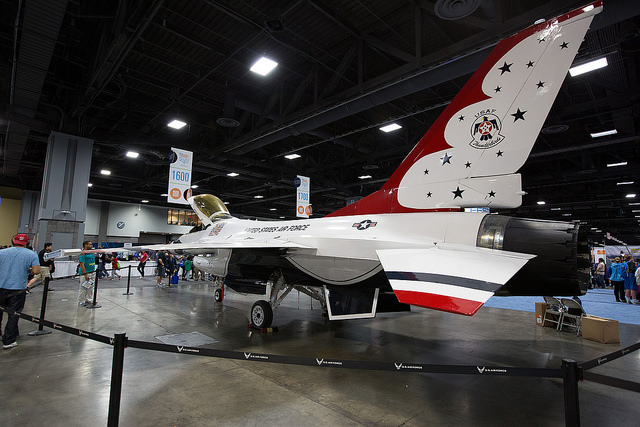 "There is a critical need for STEM talent within the U.S. Air Force for future technology and innovation efforts," says Major Ross McKnight, Chief of AF National Events Branch.   "By being a sponsor of the Festival, we have the chance to inspire today's youth to consider career and education opportunities within the Air Force."  Through exciting, hands-on interactions with Air Force professionals at the Festival Expo in April, the Air Force will further enhance its goals of inspiring the brightest, most competitive and diverse young men and women toward Air Force service, and establishing a long-term pipeline of STEM talent, he adds.
At the Expo, get ready to be wowed by these high-tech exhibits by the Air Force:
Rapid Strike – Don't miss this unique simulator ride that immerses visitors in the high-tech world of the United States Air Force. After boarding, you'll experience a real Air Force mission, including an F-22 flight, C-17 cargo drop, Special Operations ground surveillance, satellite communications, and a Reaper missile strike – all from a first-person point of view!
Explosive Ordnance Disposal Team (EOD) – The Air Force EOD teams are trained to detect, disarm, detonate, and dispose of explosive threats all over the world. You'll have the chance to try on the 75-pound bomb suit that Airmen wear in the field, and to test your skills at operating a robot.
 F-16 Fighting Falcon – While at the footprint, you'll have the chance to get up close to a single-engine supersonic fighter jet. Reaching speeds of up to 1,500 mph, the F-16 Fighting Falcon was the world's first aircraft to be able to withstand higher g-forces than the pilots.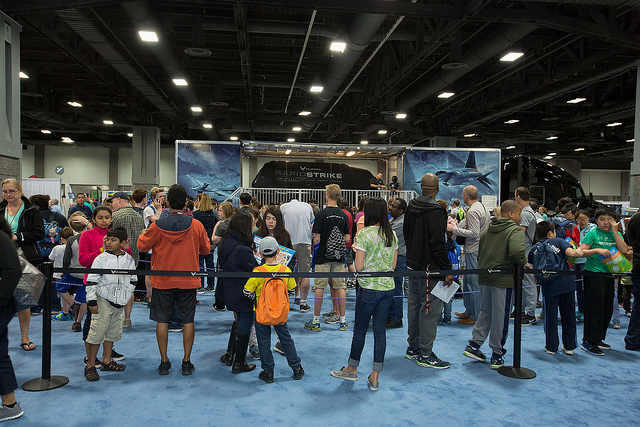 "We want Expo visitors to recognize the Air Force as the most technologically advanced branch of the military," says Major McKnight. For 2018, he adds, the Air Force Recruiting Service is hiring over 29,200 new Airmen.
For more information on the Air Force and its exciting outreach events, visit  www.airforce.com/find-an-event. And for added excitement, play the interactive game, Airman Challenge, on your iPhone or desktop computer to experience and complete the types of missions Airmen carry out every day around the world!  https://www.airforce.com/airmanchallenge/