A competition sponsored in 1913 by Scientific American asked for essays on the ten greatest inventions of the preceding 25 years. The electric furnace, the steam turbine and the gasoline-powered automobile rounded out the top three. Today, many might say the World Wide Web. Perhaps a student at the Festival will have a say in creating the next greatest invention.
Give our future engineers use of laser cutters, precision machinery, software and other tools, and they're bound to make just about anything. The Fab Lab at the Chevron STEM Zone offers students that opportunity. We're excited see what they invent. It's a group unlikely to draw in between the lines.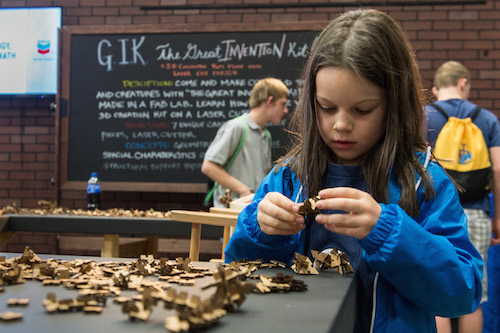 Chevron partners with The Fab Foundation to bring these fabrication labs — Fab Labs — to areas where Chevron operates to inspire STEM learning. The Fab Foundation provides access to tools and technology in order to educate, innovate and invent. The labs enable students to go from concept to drawing, models to prototype, and redesign to final product.
At the Festival, students will start with jump rings — little metal loops with an opening — to build and connect tiny figures. It's up to them to design their creation. CorelDraw graphic design software is another tool for the creative process. Volunteers will operate laser cutters and print samples on 3D printers to bring figures to life. While that's going on, others will learn how to create small, colorful adhesive vinyl stickers using CorelDraw. Students might create the next famous cartoon figures, slogans, scenes from nature and geometric shapes. What gets created is always fun and inspiring.
The volunteers helping students are from a public education resource called Intermediate Unit 1 in southwestern Pennsylvania. They're one of Chevron's and the Fab Foundation's new partners with a permanent Fab Lab at its campus in Grindstone and a mobile lab to serve more rural areas. Fab Labs were unveiled last year in California, Washington, D.C. and Pennsylvania with Chevron's $10 million commitment. Those Fab Labs join a global network of more than 500 in 30 countries.
We're excited to be a major sponsor this year of the USA Science & Engineering Festival and to see what's invented at this year's Fab Lab exhibit.